Dr. Lyall Ashberg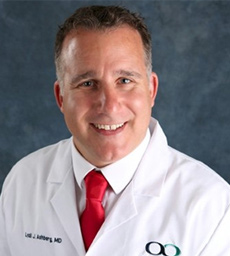 Dr. Lyall Ashberg
Dr. Lyall Ashberg is a Board-Certified, Fellowship-trained, orthopaedic surgeon, specializing in pediatric orthopaedic surgery as well as minimally invasive, hip preservation surgery including hip arthroscopy and robotic (MAKO), hip joint replacement.
Dr. Ashberg completed his medical degree and graduated with honors, at the University of Texas Health Science Center in San Antonio. He completed his orthopaedic surgery residency at the University of Florida Health Science Center in Jacksonville. He then finished an additional year of fellowship training in pediatric orthopaedics at Nemours Children's Clinic in Jacksonville, Florida. He recently completed a second fellowship in hip preservation surgery at American Hip Institute Research Foundation in Chicago which entailed not only extensive operative training in cutting edge, minimally invasive surgery of the hip, but also a substantial emphasis on clinical research in hip preservation surgery.
He is an experienced orthopaedic surgeon beginning his career in 2003, as an associate professor of pediatric orthopaedics at Nemours Children's Clinic, in Jacksonville, Florida. Following this he had a busy private, pediatric orthopaedic practice in Melbourne, Florida from 2004 until 2010. He then continued in private practice in Cape Town, South Africa treating patients with both pediatric and general orthopaedic surgery conditions from 2010 until 2016. He returned to the United States in August, 2016 to continue his career.
Dr. Ashberg's unique training in both pediatric orthopaedic and hip preservation surgery, enables him to provide a comprehensive, head-to-toe orthopaedic service, in caring for not only pediatric and adolescent orthopaedic ailments but also adults with hip problems who may benefit from a minimally invasive solution. This includes the treatment of pediatric trauma/fractures, sports injuries, scoliosis, limb deformity and congenital foot disorders such as club foot. In addition, Dr. Ashberg's training in hip preservation surgery, allows him to provide minimally invasive treatment of the hip in this cutting edge, rapidly developing area of orthopaedic surgery. This entails the arthroscopic treatment of conditions such as acetabular labral tears, femoracetabular impingement (FAI) and borderline dysplasia. He also provides care in open hip preservation procedures to adolescents and adults such as periacetabular osteotomy (PAO). Lastly, Dr. Ashberg performs minimally invasive, robotic assisted (MAKO), anterior hip replacement surgery, with an emphasis on rapid recovery and out-patient surgery as an option.