Dr. Carlos Suarez-Ahedo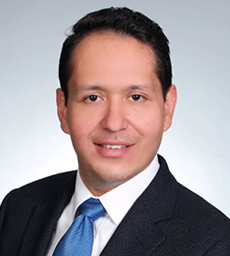 Dr. Carlos Suarez-Ahedo
Dr. Suarez-Ahedo is a recognized orthopaedic surgeon leading Minimally Invasive Total Hip and Total Knee Replacement, Sports Medicine and Arthroscopic Surgery providing superior knowledge and expertise to his patients.
Dr. Suarez-Ahedo regularly gives lectures and teaches courses for orthopaedic surgeons around the world and is actively involved in the research and development of new techniques in joint replacement and arthroscopic surgery.
He is also author and coauthor of several scientific publications in recognized international journals in the field of sports medicine, arthroscopic surgery and hip pathology.
Dr. Suarez-Ahedo is a La Salle University graduate (Mexico). He completes his training in Orthopedic Surgery at the Spanish Hospital in Mexico City. His subspecialty training includes a fellowship in Articular Surgery, fellowship in Adult Joint Hip and Knee Reconstruction at the National Rehabilitation Institute of Mexico and an additional Fellowship in Hip Preservation Surgery at American Hip Institute Research Foundation in Chicago, USA. His professional affiliations include International Member of the American Academy of Orthopaedic Surgeons (AAOS), the Arthroscopy Association of North America (AANA), and the International Society of Technology in Arthroplasty (ISTA), the International Society for Hip Arthroscopy (ISHA), and the Société Internationale de Chirurgie Orthopédique et de Traumatologie (SICOT).